The training of (future) construction industry professionals is a key lever to transition the sector to the circular economy. Brussels sets itself apart with its willingness to take such action.
Every link in the chain (students, designers, entrepreneurs, etc.) needs to acquire circular economy skills. Eager to reinvent themselves, entrepreneurs must have access to a range of innovative training. However, the offering must also respond to the arrival of new professions ushered in by the circular age. In Brussels, the political will behind PREC supports a growing movement which is sowing the seeds for a changing economic model. Integrating the concepts behind the circular economy is a growing priority for everyone, from training organisations to stakeholders. This article provides an overview of the latest innovations and projects.
Continuing training for active professionals
"You must never rest on your laurels, as they do not provide solid footing." Louis Dumur
Brussels recently launched an ambitious project for entrepreneurs: Build Circular.Brussels. Its purpose it to prepare workers for the requirements of tomorrow and encourage them to remain up-to-date on the latest circular techniques. Currently, the CCB-C and CDR Construction are working together to implement the project with the support of CSTC. In addition to bespoke assistance programmes, workers active in the Brussels-Capital Region can also take advantage of more than fifty free training programmes provided by experts: circular worksite management, the digitalisation of renovation, wood reuse and assembly, etc.
Among training organisations (Bruxelles Formation, CDR Construction, Académie Construction, etc.), efforts to adapt the offering are multiplying: façade renovation courses, circular economy eco-construction courses, full-scale model design and modern teaching tool design, etc. In addition, the entire sector (CCB-C, CSTC, Ecobuild, etc.), as well as Brussels Environment, are taking their mission to educate to heart by offering a range of activities: informational sessions, seminars, video clips, worksite visits, etc.
Investing in youth to change the future
The challenges of the circular transition also include renovating the built environment in Brussels to achieve carbon neutrality by 2050. This enormous challenge is synonymous with attractive opportunities and will only be possible with the help of the younger generation! More and more innovative and fun projects are being developed to mobilise it.
At the initiative of EFP, Build Reversible In Conception (BRIC) is a 100% sustainable and modular instructional building constructed from reused materials. This project enables 182 students from 12 trades (carpenters, woodworkers, heating engineers, etc.) to improve their knowledge about optimising materials as part of a circular vision.
CDR Construction's nautical base project Build For Water in Anderlecht allows young people to get a taste of sustainable construction professions. Special attention is given to the challenges of water management.
CDR Construction was already being talked about with its autonomous modular construction pilot project, MØDÜLL 2.0.
More innovative formats
Although digitalisation is a key lever for the future of the sector, innovations keep happening at the training level: webinars, online workshops, virtual worksite visits, etc. At the same time, bold trainers are keeping the more curious satisfied with training on CNC use (computerised manufacturing machines) during their woodworking workshops and by using interactive digital games. Atelier Moneo recently presented the various tools used as part of its training programmes on renovating old buildings.[1]
Centred on humans
The digitalconstruction.be website from CSTC is a valuable tool for guiding professionals through their digital transition. When it comes to sharing skills, virtual tools will not, however, replace on-site learning. Only human relations have the power to implant the circular vision long-term.
We hope to see you again shortly! See you soon!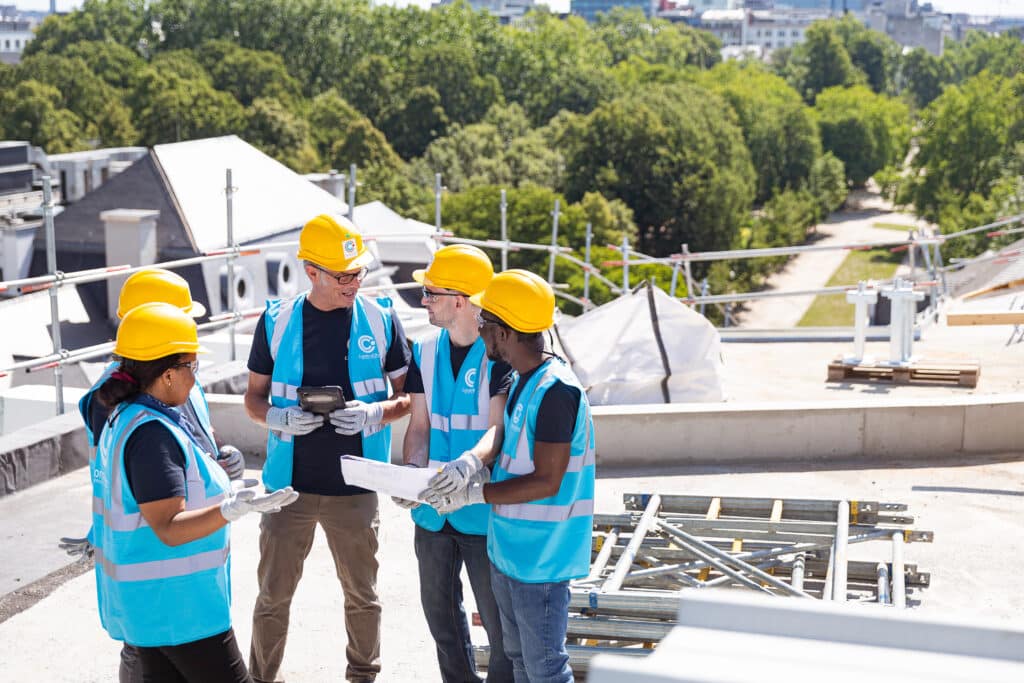 Author: Valérie Gillès, Communication Officer at Build Circular.Brussels
Read also: Greenbizz II, an exemplary centre dedicated to the circular economy; Clear thinking about public space, a sustainabilty catalyst
Sources:
---
[1] View the speech by Atelier Moneo at the webinar on: The digitalisation of the construction industry