The social economy – a fitting response to the new needs of a networked government
Governments are facing more and more complex social problems. The question as to how a modern government deals with these is particularly relevant, and the response has changed considerably over the last 20 years. Since the 2000s, it has evolved from a large bureaucracy that kept control of everything towards a focus on collaboration. In this, there is a clear, prevailing philosophy, namely, that the solution of increasingly complex social problems requires collaboration between all of the participants involved. Furthermore, governments that are committed to the social economy have taken a pioneering role.
FIX: hitting more than two birds with one stone
FIX is an example of how different social problems can be tackled in a joined-up manner. FIX was founded in 1999 with support from the Flemish Community Commission. It is a social economy organisation that renovates public infrastructure in Brussels, by recruiting the long-term unemployed. FIX's employees gain work experience in the construction industry for 1 to 2 years, and after this journey, they receive further support with their search for a job in the regular employment market. FIX's activities are closely aligned with the modern network function of governments. For instance, FIX is closely involved with schools in Brussels and can professionally combine their infrastructure needs and informatively communicate to regional governments. FIX also scores highly in terms of career progression. 72% of FIX recruits who began their work experience journey with FIX in 2019 found a job on the regular employment market within one year. This dual response to various public needs (unemployment and infrastructure) in consultation with various partners makes FIX an attractive partner for a networked government. That is why FIX added a further activity in 2009.
Energy Coordinators – intermediaries for sustainability
For over 10 years, two Energy Coordinators have been the face of the FIX energy project. Their tasks are at the core of this network function, because Energy Coordinators raise partners' awareness so that they can make sustainable choices and focus attention on new and potentially energy-saving choices. For instance:
Energy Coordinators advise schools about measures that could potentially save energy using energy measurements. They also support schools with the preparation of subsidy documents.
Audits by Energy Coordinators encourage external engineering firms to give further attention to energy efficiency in their plans, instead of a one-sided focus on pricing.
Energy Coordinators advise governments on the evaluation of subsidy applications.
Energy Coordinators advise governments on the focus of measures related to subsidies and highlight the needs of schools in this regard using measurable data and first-hand experience.
Energy Coordinators provide technical expertise on the energy-saving activities carried out by FIX, including advice on the installation of thermal insulation and lighting.
Energy Coordinators raise the awareness of FIX teams about sustainable materials management, both in the choice of eco-friendly materials and with waste management during performance of the activities. For instance, FIX chose to completely switch to eco-friendly paint in 2020.
A network function requires a varied approach that is tailored to the different stakeholders involved, which is a challenging, but appreciated task. The clear shift in mentality towards greater attention for sustainability and the fine results also provide further motivation to keep going. By bringing together different participants, they continue to be an important driver for more energy-conscious policy decisions at FIX and all the partners.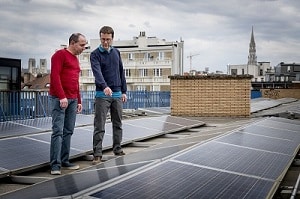 Author : Eva De Smedt, Directeur of FIX
Read also : Biosourced insulation: a growing market for renovation companies; Technical facilities: a poor relation in the circular economy?; COVID Safe Certificate: The beginning of a solution from engineers and architects?, Training for more circular construction in Brussels.