70 innovative projects to be presented during the 24 Hours for Climate
22-10-20
Opportunity watch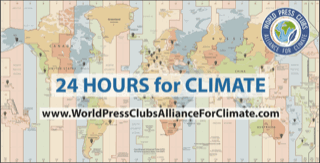 On 23 October, starting at 00:01 and for 24 hours, Brussels will be the world capital of climate innovation. At the initiative of the Press Club Brussels Europe, 100 press clubs worldwide representing over 20,000 affiliated journalists will join the World Press Clubs Alliance for Climate for the event "24 Hours for Climate," the longest online conference ever organised on climate action and innovation. The event will be hosted on the Alliance's website and social networks, and will feature three streaming channels dedicated to Brussels, Europe, and the rest of the world.
Supported by the European Commission and the Brussels-Capital Region, this groundbreaking event is designed to promote the sharing of knowledge and best practices at global level, and to strengthen the attractiveness of the Capital of Europe as a climate communication hub and a hotbed of climate innovation.
« In terms of climate, energy and the environment, the Brussels Region is fully committed to the Paris Agreement, » says Minister-President Rudi Vervoort on behalf of the Government of the Brussels-Capital Region. « From a holistic approach, the plan is to direct investments towards circular, renewable, decarbonated solutions, in order to reach 100% in the long term. »
The channel dedicated to the Brussels Region will showcase through video reports, interviews and discussion panels more than 70 exemplary Brussels projects providing innovative solutions in various fields: mobility, energy, agriculture, waste reduction, biodiversity, circular economy, etc.
The Brussels programme will also give elected officials the opportunity to present their climate policies. It features a round table on the regional Climate Plan, with the participation of the Minister for the environment Alain Maron and the Secretary of State for economic transition Barbara Trachte. The regional ministers for mobility, budget, employment, and urban planning will also address their respective policy areas in various interviews. At the local level, several mayors and vice-mayors of Brussels communes will share their plans and actions.
On the Europe channel, many international personalities will take part, such as the climatologist Jean-Pascal Van Ypersele, the jurist Olivier De Schutter, the explorer Bertrand Piccard, the economist Laurence Tubiana and the writer and film director Cyril Dion. Contributions from press clubs from the rest of the world will be presented on the third channel.